Travelling is a wonderful escape from the daily grind, a chance to explore new horizons and create lasting memories. Yet, amidst the excitement of traversing new landscapes, it's essential to prioritize self-care, especially when it comes to your beauty routine. Enter the Vagads Khadi Travel Kit, a comprehensive selection of natural beauty essentials designed to keep you looking and feeling your best on your journeys. In this blog, we'll introduce you to the five natural wonders that make up this exceptional travel kit and why it's an absolute must-have for your adventures.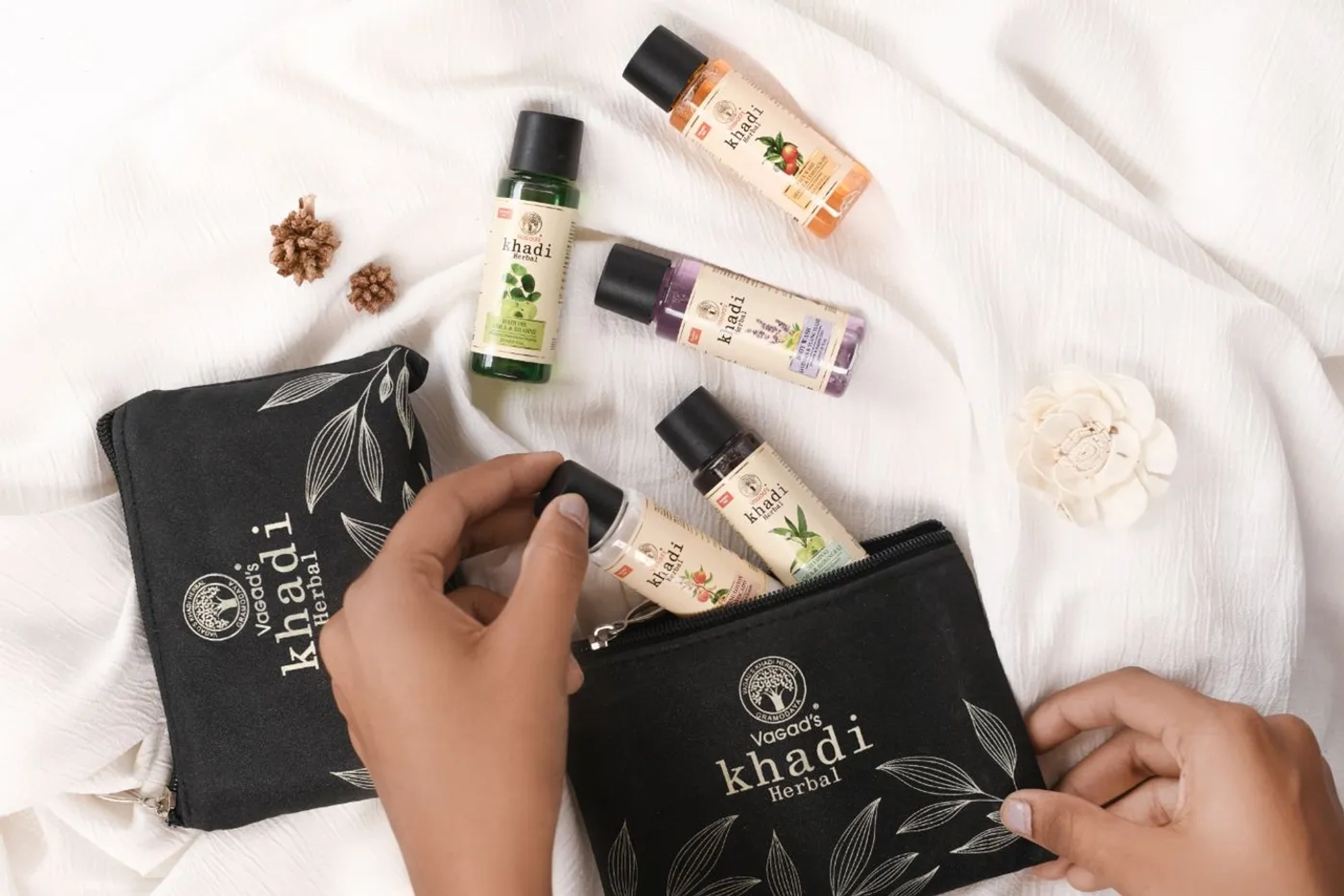 Introducing the Vagads Khadi Travel Kit: A Glimpse Inside
Amla Bhringraj Shampoo:
Gentle Hair Cleansing: Amla and Bhringraj, two traditional Indian herbs, work together to cleanse your hair gently while promoting its overall health and shine.
Space-Saving: This travel-sized shampoo lets you enjoy the benefits of natural ingredients without compromising on luggage space.
Amla Brahmi Hair Oil:
Nourishment from Nature: Enriched with the goodness of Amla and Brahmi, this hair oil provides deep nourishment and strength to your hair. Amla promotes hair growth and scalp health, while Brahmi improves hair texture.
Compact and Convenient: The travel-sized bottle ensures that you can maintain your hair's lustre and health wherever you go, even in challenging climates.
Peach Avocado Moisturizing Lotion:
Skin Love in a Bottle: Indulge your skin with the hydrating power of peaches and avocados. This moisturizing lotion keeps your skin supple and soft.
Travel-Friendly: The compact design of the lotion bottle fits perfectly into your bag, so you can moisturize on the fly.
Lavender Ylang Ylang Body Wash:
A Soothing Experience: Lavender and Ylang Ylang are known for their calming and aromatic properties. This body wash soothes your senses while cleansing and refreshing your skin.
Perfectly Portable: The compact body wash container ensures you have a touch of luxury with you wherever you wash up.
Orange Lemongrass Face Wash:
Gentle Facial Cleansing: Begin and end your day with the refreshing blend of orange and lemongrass in this face wash. It effectively removes impurities and leaves your skin feeling revitalized.
Travel-Size: The travel-sized face wash is easy to carry, making it a staple for your daily skincare routine, even when you're on the move.
 
Why Choose Vagads Khadi Travel Kit?
Nature's Bounty: Vagads Khadi products are crafted with the finest natural ingredients, carefully chosen to enhance your beauty without harsh chemicals.

Travel-Friendly: The compact sizes of the products are tailored to fit seamlessly into your luggage, backpack, or handbag, ensuring that you can maintain your beauty regimen while on the go.

Suitable for All Skin and Hair Types: Whether your hair is curly or straight, your skin dry or oily, Vagads Khadi Travel Kit is versatile and suitable for all beauty needs.

Cruelty-Free: Vagads Khadi is dedicated to ethical practices and does not test on animals, aligning with your values against animal cruelty.

Eco-Conscious: The packaging of the travel kit is eco-friendly, contributing to a greener planet while you explore it.